You can delete exceptions in any of the coverage table templates.
Tip: You can delete exceptions in a coverage table that is attached to an insurance plan and in a coverage table when you are editing an insurance plan that is attached to a patient's record.
Note: The exceptions in coverage tables are used by Dentrix Ascend to automatically calculate insurance estimates. If a patient has dual coverage, the exceptions of the primary insurance coverage are used. Also, a posted procedure with an exception will have a warning icon next to it in the following areas of Dentrix Ascend: in the Enter payment dialog box, in the Enter credit adjustment dialog box, on the Payment tab of the Patient Walkout dialog box, and on the treatment plan case preview page. You can click a warning icon to view the details of the exception for the corresponding procedure.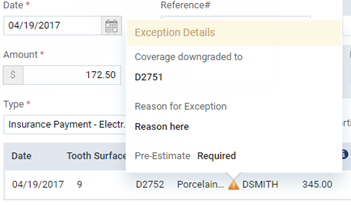 To delete an exception
How to get there
From the Settings menu, under Production, clicktap Coverage Tables.

The Coverage Table Setup page opens.
On the Coverage Table Setup page, select a coverage table template.

The options for editing the coverage table appear.

ClickTap Manage Exceptions.

The Exceptions dialog box appears.

Select an exception.

The options for editing the exception become available.

ClickTap Delete.

A confirmation message appears.

ClickTap Delete.