Notifications appear (as pop-ups in the lower-right corner) according to your subscriptions. However, even if you are subscribed to a notification, a notification appears only if you are logged in to Dentrix Ascend at the time the change that triggers that notification to be sent to you is made by another user. Notifications are visible until you dismiss them or log out.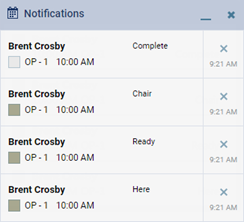 Note: A sound accompanies a notification that you receive if your notification settings have been set up to allow a sound to be played. For you to hear the sound, your computer must have speakers attached and the volume properly set.
To handle notifications
Do any of the following:
To dismiss an individual notification, clicktap it.

To dismiss all your notifications at once, clicktap the Close button on the Notifications title bar.