You can edit exceptions that have been added previously to a coverage table that is attached to an insurance plan.
Tip: You can also edit exceptions in any of the coverage table templates.
Note: Editing coverage tables for insurance plans requires the "Edit Insurance Plans" security right.
Note: The exceptions in coverage tables are used by Dentrix Ascend to automatically calculate insurance estimates. If a patient has dual coverage, the exceptions of the primary insurance coverage are used. Also, a posted procedure with an exception will have a warning icon next to it in the following areas of Dentrix Ascend: in the Enter payment dialog box, in the Enter credit adjustment dialog box, on the Payment tab of the Patient Walkout dialog box, and on the treatment plan case preview page. You can click a warning icon to view the details of the exception for the corresponding procedure.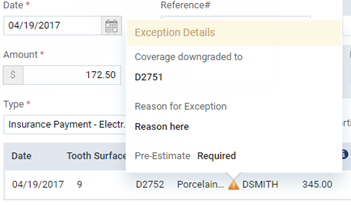 To edit an exception
On the Home menu, under Insurance, click (or tap) Carriers.

The Insurance Carriers page opens.

Select an insurance carrier.

The options for editing the insurance carrier become available.

Under Plans/Employers, select an insurance plan.

The options for editing the insurance plan become available.

Click (or tap) Coverage Table.

The Coverage Table dialog box appears.

Insurance Coverage, %

Patient Copayment, $

Click (or tap) Manage Exceptions.

The Exceptions dialog box appears.

Select an exception.

The options for editing the exception become available.

Select one or multiple procedure codes, and set up the other options on the following tabs as needed:

Exception Type

Do one of the following:

To add multiple procedures that are not covered, do the following:

Leave Not covered selected as the Exception type.

Click (or tap) Add Bulk Procedures.

The tab now displays a list of procedure codes.

Select the check boxes that correspond to the procedure codes that are not covered. To search for a procedure, begin typing the code or its description in the Procedure code(s) search box, continue typing as needed to narrow down the procedure code list.

Note: After searching for and selecting a procedure, to return to viewing the entire procedure code list, delete the search text from the Procedure code(s) search box.

To add one procedure code for any exception type, set up the following options:

Procedure code - To select a procedure, begin typing the code or its description, continue typing as needed to narrow the results, and then select a code.

Exception type - Select one of the following options: Not covered, Downgrade, or Coverage with age limit.

Pre-estimate - If the insurance carrier requires that a pre-treatment estimate (pre-authorization) be submitted before treatment can begin for this procedure, select the Required check box.

Click (or tap) Next.

Specify Options

Do one of the following:

For a Not covered exception type, there are no options on this tab.

For a Downgrade exception type, begin typing the code or description of the substitute procedure to Downgrade coverage to, continue typing as needed to narrow the results, and then select the code.

For a Coverage with age limit exception type, set up the following options:

Deductible Type - Select the type of deductible that the patient must pay for this procedure.

Coverage, % - Enter the percentage of the fee charged that the insurance carrier covers for this procedure. This option is available only for coverage tables that are based on insurance coverage percentages.

Copayment, $ - Enter the co-pay that the patient pays for this procedure. This option is available only for coverage tables that are based on fixed, patient copayments.

Max age limit - Enter an age limit to specify that the insurance carrier covers this procedure for patients who are of the specified age or younger.

Note: If the patient's age exceeds the specified limit, the percentage (%) or copayment ($) in the coverage table is used.

Insurance Coverage, %

Patient Copayment, $

Click (or tap) Next.

Reason for Exception

Enter the reason for the exception in coverage for this procedure.

Click (or tap) Done. (This button is available only if the Reason for Exception tab is selected.)